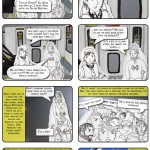 This comic is dedicated to National Accessibility Awareness Week here in Canada. Did you know it was National Accessibility Awareness Week? Glad to know you're aware of the awareness.
To celebrate this momentous holiday, and our first month of comics, we are holding our first ever CRIPZ CONTEST!! How does it work? Simple. We will ask you a question. You will provide an answer in the comments. If your answer is correct, YOU WIN! What do you win? Bragging rights. Kidding (but also those). You will win a fabulous prize! This week's competition is for a brand new Cripz: A Webcomic poster featuring your favourite comic strip. Maybe the makers of the comic will sign it. Or, if you want it to be worth something, maybe we'll get some random person off the street to sign it instead. Your choice!
So your challenge is: in this week's comic, there is a popular philosopher/historian hidden within the episode. If you can name the individual and what cell they are in, you win! First come first serve, so act fast.