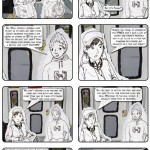 Some other reasons not to go to a fair…
Babies (and pre-teens, who are like babies only they kick harder when you pinch their cheeks).
Games you can never win…it's like being a member of the Toronto Maple Leafs.
Carnies. There are carnies at fairs still, right?
Vomiting (both food and ride related).
Cattle wrangling/Cock Fights (lack thereof)/Russian Roulette (also lack thereof).
The smell. That's something you will never get out of there…ever.